SYMBOLICAL SYNONYMS OF SOLOMON'S SEAL: TWIN PILLARS
---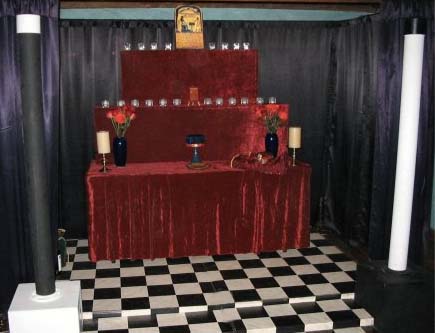 In the Qabalah, the twin pillars of Severity and Mercy, black and white, left and right, mean much the same thing as the Seal of Solomon, where the black triangle is equivalent in meaning to the black pillar of severity, and the white triangle synonymous with the white pillar of mercy. Albert Churchward, in his book "The Arcana of Freemasonry", makes this clear:
"The Old Mystery Teachers of Egypt mapped out, or divided, the Heavens first into two divisions, South and North. The 'Points' being the two Pole Stars, resting on the Horizons, as seen in the centre of Africa, 'Points' which never changed with time,' represented symbolically as Set and Horus, Twins of the Great Mother, 'the two Primary Gods', symbolized by two Poles or Pillars or two Eyes, and sometimes by two Circles. These also represented Light and Darkness...."
(Albert Churchward, "The Arcana of Freemasonry", pages 231-232.)
The pillar called Jakin represents the female organ, the uterus, and the column called Boaz represents the male principle, or phallus, according the Lady Quensborough, author of "Occult Theocracy", volume II.